HOLOGRAPHIC F*CK BIRD STICKER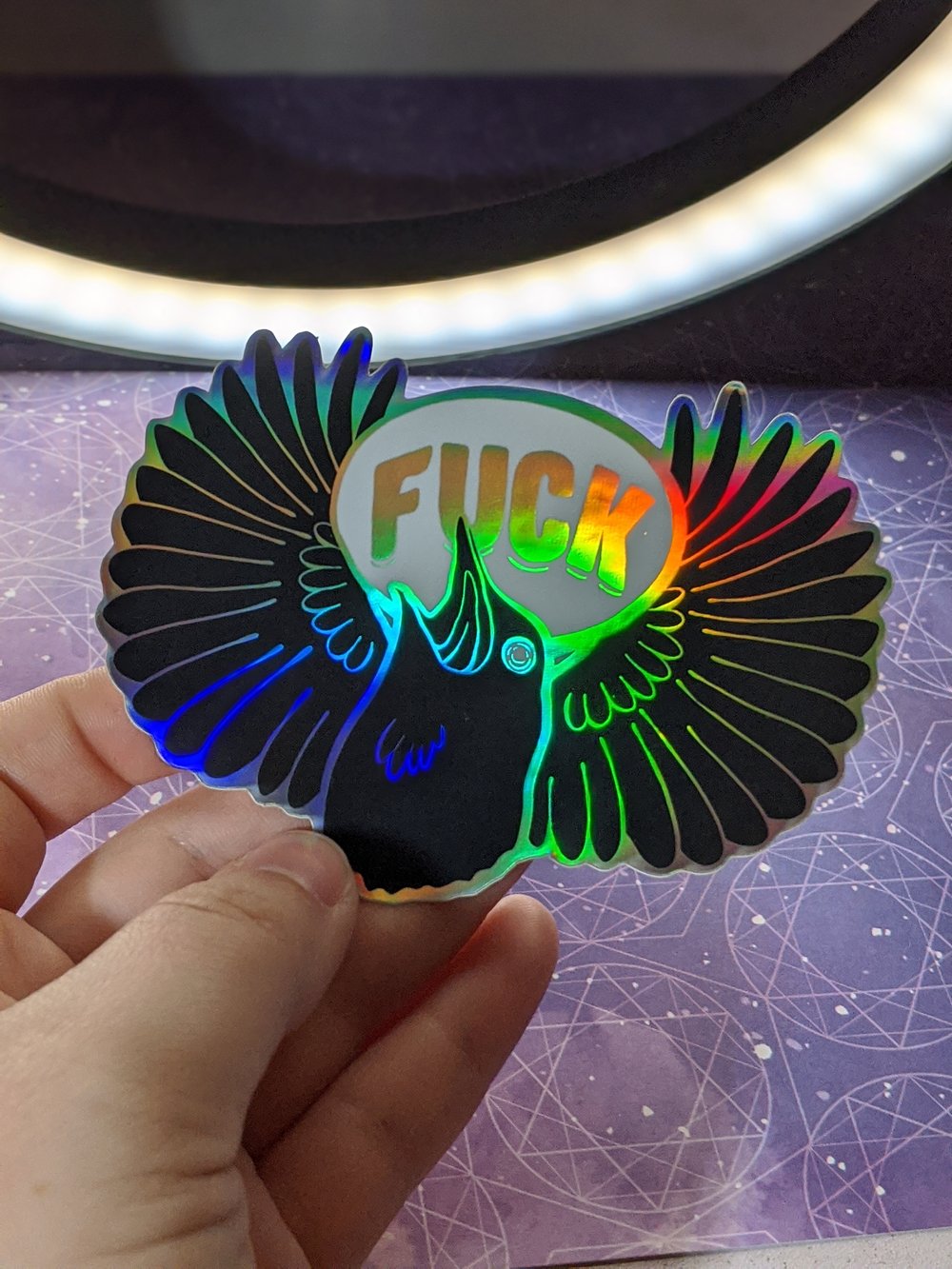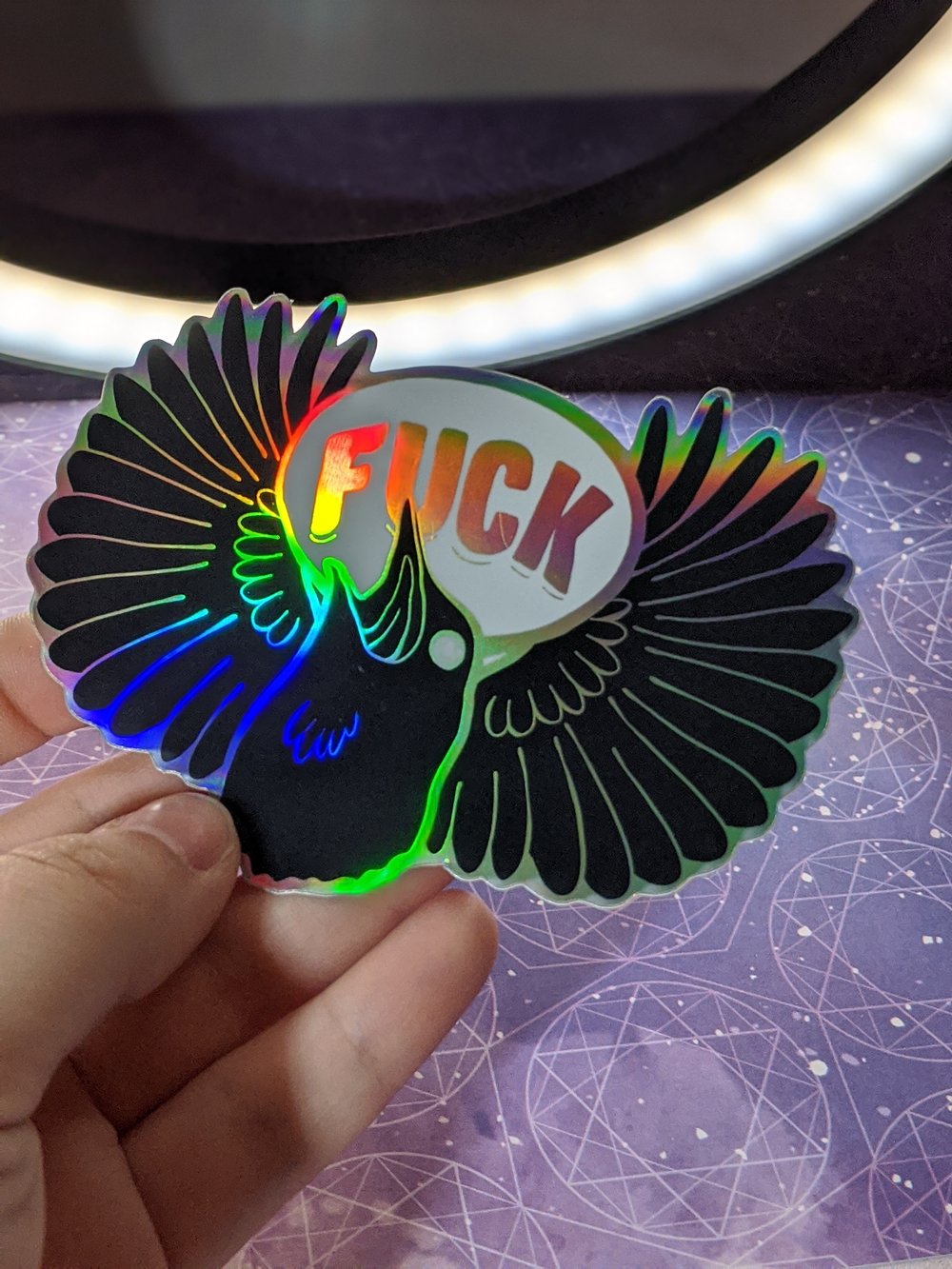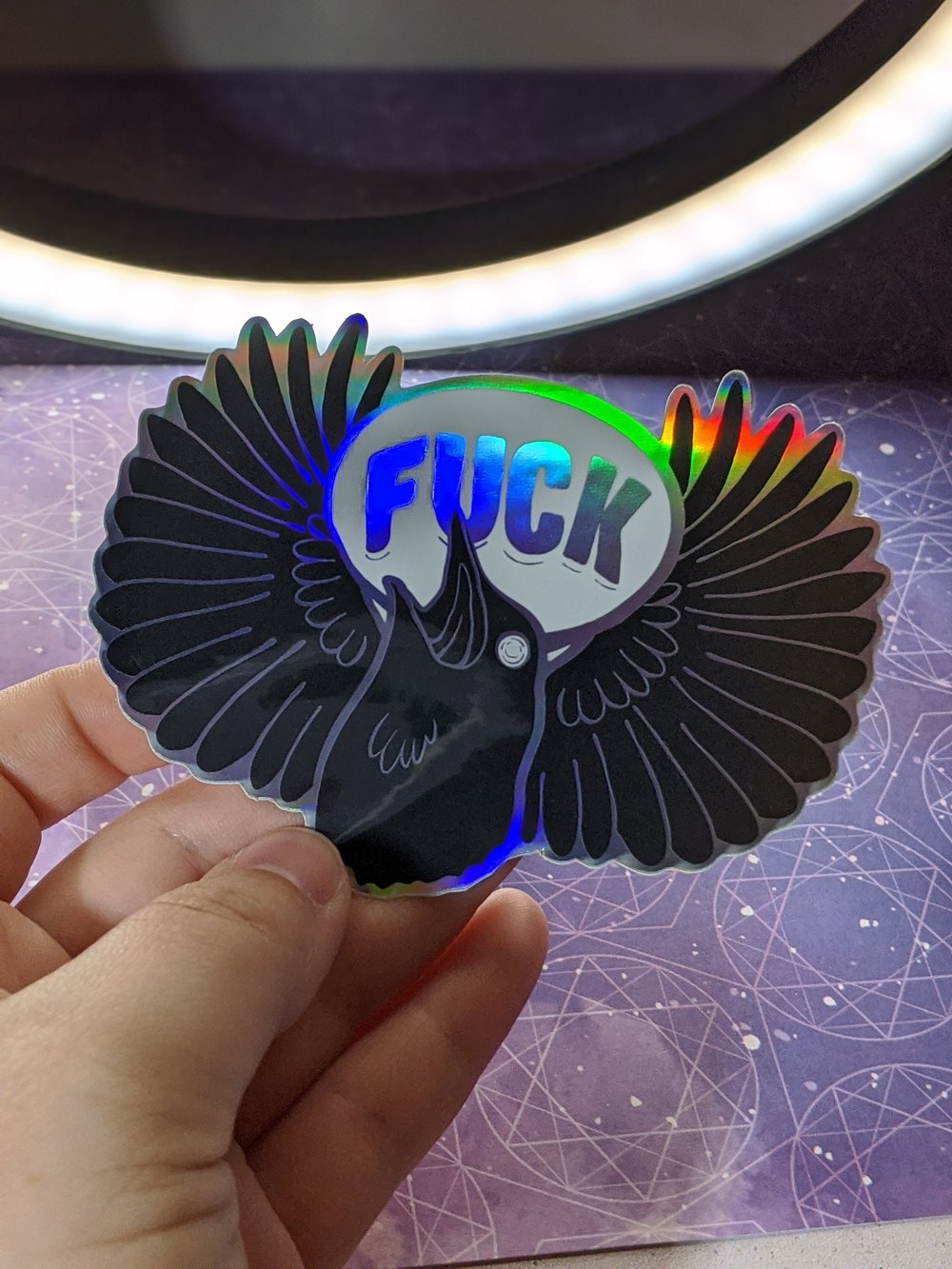 INTERNATIONAL SHIPPING NOTE: DUE TO NEW VAT LAWS IN THE UK AND THE EU, AT THIS TIME WE ARE ONLY ABLE TO SHIP TO THE US AND CANADA FROM BIGCARTEL. IF YOU ARE NOT FROM THE US OR CANADA AND WOULD STILL LIKE TO MAKE A PURCHASE, PLEASE LET US KNOW SO WE CAN SET UP AN ETSY LISTING FOR YOU!
*****
4" x 2.5" holographic flustered bird sticker!!
In the wise words of Edgar Allan Poe: "Quoth the Raven: FUCK THIS SHIT"
In the current climate, sometimes you're pretty limited on how you can express your confusion, frustration, and general discontent.
I started this design late last year to describe the generally overwhelming feeling that followed me all throughout 2019. A lot happened throughout last year. I quit one job I desperately loved. I took a different job in a field completely unrelated to my alma mater. I started college (for the second time!). I'm still unsure if I made any right decisions last year, and every day I hemorrhage money, time, and effort into a new degree I feel anxious and uncertain.
This little bird was supposed to be a manifestation of all that uncertainty. It was cathartic to design her; it felt like maybe things were going to look up in 2020, like maybe I'd get my shit together, like maybe school wouldn't be so daunting, like maybe I'd be able to create the life I wanted for myself.
LITTLE DID I KNOW, IT WAS ABOUT TO GET SO, SO MUCH WORSE.
I'm scared and anxious. I know we all are; conventions have been cancelled, people are losing their jobs left and right, self-quarantine outside of my work (I work in the medical field) has left me feeling pretty despondent and I'm not sure anymore how I'm going to supplement my income, as convention sales were what have been paying for my classes for the past two semesters.
Over the next few months, a lot is going to happen. A lot of it will make us want to scream into the void; a lot of it will make us want to cry.
And that's okay, y'all.
Sometimes you just gotta screech obscenities into the great, big nothingness in order to find some semblance of peace within yourself.